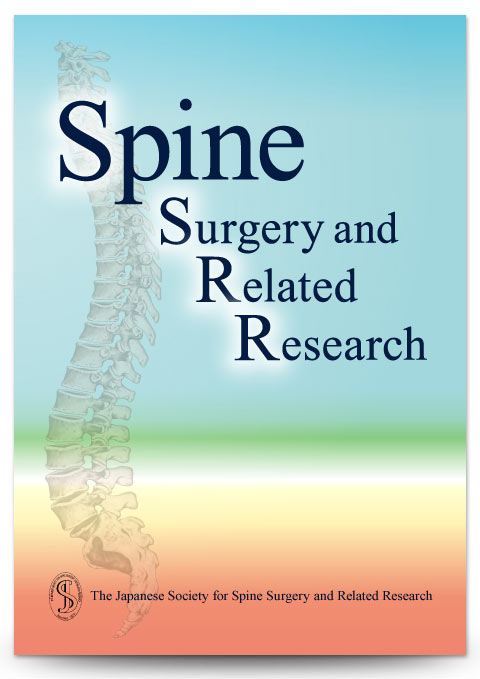 Metrics
Submission to First Decision (Avg.)
Submission to Acceptance (Avg.)
Aims and Scope
Spine Surgery and Related Research (SSRR), the official open-access journal of the Japanese Society for Spine Surgery and Related Research, is an international, peer-reviewed, multidisciplinary journal directed to spine physicians and scientists.
The journal publishes original articles in the form of basic, clinical, and translational research on anatomy, pathophysiology, biomechanics, diagnosis, medical and surgical treatments related to spine and spinal cord. SSRR accepts review articles from evidence-based perspective including systematic review, suggestive technical notes, and rare clinical cases.
Editorial Committee
Editor-in-Chief
Kazuhiro Chiba, MD, PhD, National Defense Medical College, Japan
Deputy Editor-in-Chief
Sumihisa Orita, MD, PhD, Chiba University, Japan
Deputy Editors
Nobuyuki Fujita, MD, PhD, Fujita Health University Hospital, Japan
Hiroshi Hashizume, MD, PhD, Wakayama Medical University, Japan
Manabu Ito, MD, PhD, NHO Hokkaido Medical Center, Japan
Yoshiharu Kawaguchi, MD, PhD, Toyama University, Japan
Mamoru Kawakami, MD, PhD, Wakayama Medical University, Japan
Naohisa Miyakoshi, MD, PhD, Akita University, Japan
Hideaki Nakajima, MD, PhD, University of Fukui School of Medical Sciences, Japan
Masashi Neo, MD, PhD, Osaka Medical and Pharmaceutical University, Japan
Seiji Okada, MD, PhD, Osaka University, Japan
Hiroshi Takahashi, MD, PhD, Toho University, Japan
Kei Watanabe, MD, PhD, Niigata University, Japan
Kazuta Yamashita, MD, PhD, Tokushima University, Japan
Advisors
Kazuhiro Hasegawa, MD, PhD, Niigata Spine Surgery Center, Japan
Shinsuke Katoh, MD, PhD, Tokushima University, Japan
International Editorial Board
Ahmet Alanay, Acibadem University, Turkey
Howard An, Rush University, USA
Phillipe Bancel, Clinique Alleray-Labrouste, France
Ronald Bartels, Radboud University, Netherlands
Scott D Boden, Emory University, USA
Wong Chung Chek, Sarawak General Hospital, Malaysia
Harvinder Singh Chhabra, Indian Spinal Injuries Centre, India
Marinus de Kleuver, The Sint Maartenskliniek In Nijmegen, Netherlands
Ashish Dhar Diwan, University Of New South Wales, Australia
Wagih El-Masry, Keele University, UK
Michael G. Fehlings, University Of Toronto, Canada
Samo K. Fokter, Celje General Hospital, Slovenia
Steven Garfin, University Of California San Diego, USA
Robert A Hart, Oregon Health & Science University, USA
John G. Heller, Emory Orthopaedics And Spine Center, USA
James C. Iatrides, The Mount Sinai Hospital, USA
Nozomu Inoue, RUSH University, USA
Keita Ito, Technische Universiteit Eindhoven, Netherlands
James D. Kang, Briham And Women's Hospital, USA
Panagiotis G Korovessis, General University Hospital Of Patras, Greece
Hwan-Mo Lee, Yonsei University, South Korea
Jeffrey Lotz, The University Of California At San Francisco, USA
Dip-Kei Keith LUK, University Of Hong Kong, China
Koichi Masuda, University Of California, San Diego, USA
Venugopal Menon, Khoula Hospital, Oman
Ahmad Nassr, Mayo Clinic, USA
Jong-Beom Park, The Catholic University Of Korea, South Korea
Luiz Pimenta, Instituto De Patologia Da Coluna, Brazil
Yong QIU, Nanjing Drum Tower Hospital, China
Daniel Riew, Columbia University Medical Center, USA
Makkarand V. Risbud, Thomas Jefferson University, USA
Björn Rydevik, University Of Gothenburg, Sweden
Dino Samartzis, The University Of Hong Kong, China
Rajasekaran Shanmuganathan, Ganga Hospital, India
Kevin Spratt, Dartmouth Medical School, USA
Kyung-Soo Suk, Yonsei Gangnam Severance Hospital, South Korea
Paul LK Thng, Changi General Hospital, Singapore
Alexander Vaccaro, Rothman Institute, USA
Luiz Roberto Vialle, The Pontifical Catholic University of São Paulo, Brazil
Jeffrey C. Wang, The USC Spine Center, USA
Hee Kit Wong, National University Of Singapore, Singapore
Jin-Sup Yeom, Seoul National University, South Korea
Kwan Mun Keong, University of Malaya, Malaysia
Charles Court, University hospital Bicêtre, Paris-Saclay University, France
Tobias L. Schulte, Ruhr University Bochum, Germany
Revenue Sources
SSRR receives revenue from the following sources to cover the costs of journal production, web hosting, CMS, database, online repository, peer review, editing and online publication
Annual budget from the Japanese Society for Spine Surgery and Related Research
Commercial advertising in journal issues, based on editor approval. See further information below.
Submission and publication of all types of papers in SSRR is FREE OF CHARGE.
Advertisement Policy
SSRR accepts advertising and sponsorship for its website according to the following principles:
All advertisements must clearly and prominently identify the advertiser by trademark or signature.
Advertising must be factually accurate, and must not be misleading.
Advertising is separate from editorial content. All advertising must be clearly identifiable as advertising and must not be confused with editorial content in format or appearance.
Advertisement must not include content or expressions that may disturb the social order.
Advertisement must not include the risk of defamation, infringement on privacy, damage to credit or obstruction.
The advertisement must not use names, photographs, comments, trademarks, copyrighted works, etc. without permission from the subject.
All advertisements are subject to approval of the SSRR, which reserves the right to reject or cancel any ad that does not meet the advertising policy of the Society.
Editorial Office
Spine Surgery and Related Research Editorial Office
c/o Kyorinsha Co., Ltd.
3-46-10, Nishigahara, Kita-ku, Tokyo, 114-0024, Japan
E-mail: ssrr@kyorin.co.jp
Tel: +81 3-3910-4311
Fax: +81 3-3949-0230
*The Editorial Office of SSRR is located within Kyorinsha Co., Ltd. Kyorinsha is a corporation that provides journal printing and editorial support and management services.

Download free
Adobe Acrobat Reader DC.